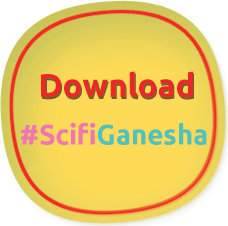 How
would

you

pose




for

a selfie

with
Ganesha?

Terms and Conditions:-
The post will be considered valid only when the tag"#Scifiganesha" is used.
Any image posted otherwise will not be considered part of the contest and hence shall receive no rewards.
Picture to be taken only after augmenting the colored scifiganesha.
The company is not responsible for any misleading news published in the papers.
The rewards are still the same as confirmed by the company Clearly mentioned in the scifiganesha contest sheet only.
Augmenting the drawing sheet will be possible only after downloading the app.
All the rights to choose the winner are subject to the company alone.
All gift vouchers that are rewarded are to be redeemed with regards to the concerned brands and our company holds no liability towards these vouchers.
All vouchers are subject to their respective brands' terms and conditions.